Glasses are more than just a visual aid—they also serve as a fashion accessory that can enhance your look. But choosing the right pair of glasses can be daunting. Thinking about your face shape can be a great way to narrow down your options.
Frames that suit your face shape can complement your natural features by blending with them to help create a full look or contrasting with them to help accent certain parts of your face.
There are multiple options for frames that suit each face shape, but it's important to remember that the best frames will often be the ones that suit all your needs and match your style. After your eye exam, your optometrist or optician can help you explore your options for frames you love.
Glasses for Different Face Shapes
Identifying your face shape is the first step to finding flattering glasses. If you can't easily categorize your face shape, an optician can help with that too.
Some of the most common shapes are round, oval, square, heart, and diamond-shaped faces. While there are guidelines for which frame types generally suit each face shape, rules are made to be broken—your features and personality may stand out most by choosing alternative frames.
Opticians can help guide you, but ultimately, we recommend you choose frames that speak to you.
Round Faces
Round faces have soft, curved lines with equal proportions of width and length. To add definition and create balance for this type of face shape, choose square or rectangular frames with sharp angles and straight lines. Avoid round or curved glasses, which may accentuate the round features.
Those with round faces often enjoy the following frame shapes:
Rectangular
Square
Geometric
Aviator
Oval Faces
If you have an oval face shape, your features are often proportional and well-balanced, with slight narrowing at the forehead and chin. This face shape can pull off almost any frame, but you may want to avoid excessively large or small frames. Instead, try to find a frame that will highlight your cheekbones.
Some of the best frame shapes for oval faces include:
Rectangular
Square
Cat eye
Wayfarer
Aviator
Geometric
Oval
Square Faces
A square face is characterized by a strong jawline, forehead, and chin with similar widths. For this face shape, we recommend glasses with smooth curves to help soften the angular features of your face. Avoid boxy, square, or angular glasses that may amplify the sharpness of your features.
Some of the frame shapes we recommend for square faces include:
Round
Cat eye
Wayfarer
Aviator
Browline
Oval
Heart-Shaped Faces
Heart-shaped faces feature a broad forehead, high cheekbones, and a narrow chin. To balance this face shape, we recommend trying glasses with thin and light-coloured frames and avoiding glasses with wide tops or heavy frames.
Some of the best frame shapes for heart-shaped faces include:
Cat eye
Rectangle
Wayfarer
Oval
Diamond-Shaped Faces
Diamond-shaped faces often have a narrow forehead and jawline with wide cheekbones. For this face shape, frames with soft shapes can create harmony between your forehead and chin while complementing your cheekbones. Avoid frames that are too narrow or too deep, as they can look harsh on your features.
Some of the frame shapes that suit diamond-shaped faces include: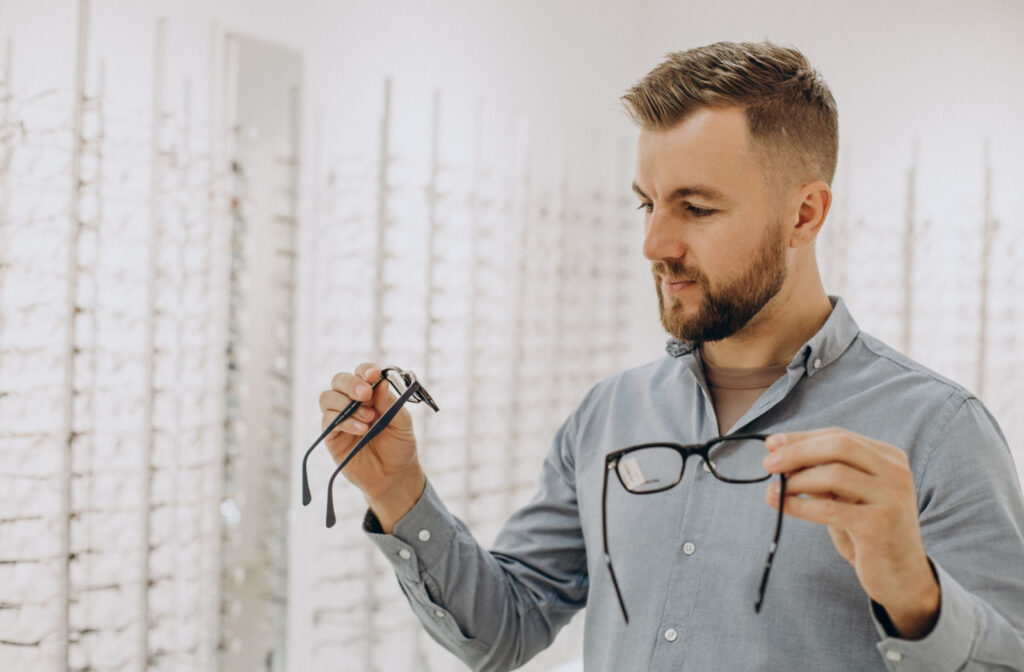 What to Look for In Eyeglasses
When you decide on a frame shape that you like, you may also have to choose other essential features for your frames and lenses—such as lens material, frame material, lens coatings, and lifestyle factors—to fully customize your glasses.
Consider Your Lifestyle
Are you an active person who spends a lot of time outdoors? Are you someone who works on a computer for long hours? Do you engage in sports or other physical activities? These factors can affect the type of glasses that work best for you.
If you're an athlete, you may need durable glasses that can withstand rough use. If you spend a lot of time on a computer, you might want glasses with an anti-glare coating to help reduce digital eye strain.
When moving from work to play throughout your day, it's helpful to have a collection of a few pairs of glasses to cycle through as your environment changes. This can protect your work glasses from breaking during your sports match or help you drive more comfortably with your polarized sunglasses.
Consider Your Lens Material
The material of your lenses can affect the weight and durability of your glasses. Common materials include glass, plastic, and polycarbonate.
Glass lenses can provide excellent clarity but may feel heavy and can break easily.
Plastic lenses are typically lightweight, scratch-resistant, and affordable, but can be less durable than other materials.
Polycarbonate lenses are typically lightweight, shatter-resistant, and durable.
Where you're wearing your glasses can influence your choice of lens material. An optician can help you narrow down your options based on your personal needs and lifestyle.
Choose the Right Lens Coating
There are several lens coatings available today that can enhance the long-term clarity and durability of your glasses.
Anti-glare coatings can reduce glare and reflections, helping make it easier to use your glasses near areas with bright sunlight or in front of computer screens.
Anti-scratch coatings can provide additional protection against scratches, helping your glasses remain clear and distortion-free for longer.
UV protective coatings can shield your eyes from harmful UV rays, which can contribute to cataract development and other eye conditions.
Customize Your Glasses
Finding the right frame style to suit your face shape is only the beginning of finding the right pair of glasses. By customizing your glasses—from the frames to the lens materials and specialty coatings—you can receive a completely personalized pair of glasses for your daily needs. Schedule an appointment with Rutland Optometry for an updated prescription, and visit our optical team for help choosing your glasses. With so many options available today, there's never been a better time to invest in a quality pair of eyeglasses to help you see the world clearly.